Moscow's Tagansky District Court has slapped a turnover-based fine on the IT-company for its repeated refusal to delete information prohibited by Russian law. Roskomnadzor, the national internet and media watchdog, had previously required the company to remove  all "misleading information" regarding Russia's military offensive in Ukraine, from YouTube.
Prior to the court's ruling, Roskomnadzor had sent Google 17 notifications requiring it to abide by Russian law, but the tech giant failed to comply. The total fine is equal to one tenth of the company and its affiliated structures' annual turnover in Russia.
Russia has long been critical of the way foreign platforms distribute online content that violates national laws. Last December, the Silicon Valley firm was hit with a fine of 7.2 billion rubles (around $98.1 million) for failing to take down banned content, which was the first time that an IT company had been fined in Russia with a penalty linked to its earnings.
In late June, Roskomnadzor completed a report regarding what it said was Google's repeated failure to remove prohibited items, saying the company had not deleted at least 7,000 "illegal materials" from Youtube.
At the time, the watchdog accused the IT giant of promoting false information on the Ukraine conflict, and hosting material that supports extremism and encourages children to participate in unauthorized mass protests.
The landmark legal decision comes amid a growing row over the US tech giant's failure to remove illegal material online.
A court in Moscow has fined Google 7.2 billion rubles (around $98.1 million) for repeatedly failing to take down banned content. The decision marks the first time an IT company has faced financial penalties based on the scale of their turnover in Russia.
On Friday, a judge at Moscow's Tagansky District Court found the internet conglomerate guilty of "committing administrative offenses," and "a penalty in the form of an administrative fine of 7.2 billion rubles was imposed," its press service said in a statement.
A turnover fine is the strictest punishment under the Russian Code of Administrative Offenses and is imposed for repeated violations. Prior to this, Google and other social networks were fined on a case-by-case basis for breaching Russian law, with penalties not linked to their earnings.
Responding to the decision, Google said in a statement that "we will study the court ruling and then determine our next steps."
The landmark ruling comes amid a standoff between the American tech giant and Moscow's media regulators. In October, online watchdog Roskomnadzor said it would seek to fine the company for repeatedly refusing to take action over content it has flagged as illegal, and that damages could amount to between 5-20% of Google's Russian revenues.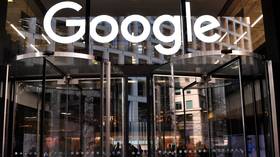 Google's Moscow office raided by bailiffs looking to collect $400k in fines… but lawyers say they must go to US to get the money
Last year, Google's turnover in the country totaled 85.5 billion rubles ($1.2 billion), according to the SPARK business database.
Roskomnadzor has also warned that the company had not paid $458,100 (32.5 million rubles) in penalties levied earlier this year. Google was also ordered to shell out after falling foul of legal requirements to store Russian users' data on servers within the country, as opposed to sending it abroad.
In May, the regulator gave Google just 24 hours to take down prohibited content or be hit with further fines. Roskomnadzor said it had issued more than 26,000 calls to the company to remove videos including information on drugs, violence, or material from what Russia deems extremist organizations.
Moscow also warned that it could slow the tech giant's traffic, hitting its ability to return rapid search results for users in the world's largest country.
Moscow has announced that it is taking steps to assert more control over social media networks operating in the country, as well as expanding its own internet infrastructure to be independent from the rest of the web. The country has invested in the development of its domestic online infrastructure in recent years, which is hoped to allow its internet to function autonomously in the event of a crisis or in the face of severe sanctions.
Unlike many other nations, Russia has a widely-used domestic rival to Google, Yandex. In 2016, Google narrowly overtook its competitor, reaching 20.5 million Russian users per month versus 20.4 million.
However, in terms of daily usage, Yandex came in first place with 12.3 million users, with Google coming third and attracting 11 million. The Moscow-based firm now offers everything from a search engine to music streaming, food delivery, and taxi hire.